In this Insight, you will learn what Demand Generation is and for which use cases this marketing tactic is recommended. Using concrete examples and a case study of the software manufacturer Micro Focus, we explain to you what the success criteria for demand generation are.
Topics in this Article
The task: Create awareness and generate qualified leads for the complex software products of the international brand Micro Focus. For this challenge, The Digitale successfully established the Demand Generation marketing strategy for the enterprise IT manufacturer in the DACH market.
Demand Generation – sustainable marketing to generate leads and prepare sales
Properly applied, Demand Generation – sometimes "underestimated" in Germany as Lead Generation via email marketing – is a marketing strategy that includes medium- to long-term measures and has a very effective and sustainable impact.
Demand Generation is not – as the name might suggest – just about creating short-term product demand. Rather, it aims to grow a genuine and long-lasting interest in the brand's solutions and services among potential customers – usually across multiple touchpoints and often combined with content marketing tactics. This process is also often referred to as lead nurturing – lead generation as a constantly improving system. That's why demand generation is mostly used in B2B marketing, i.e. solutions from companies for companies, but is also ideally suited for high-value B2C products.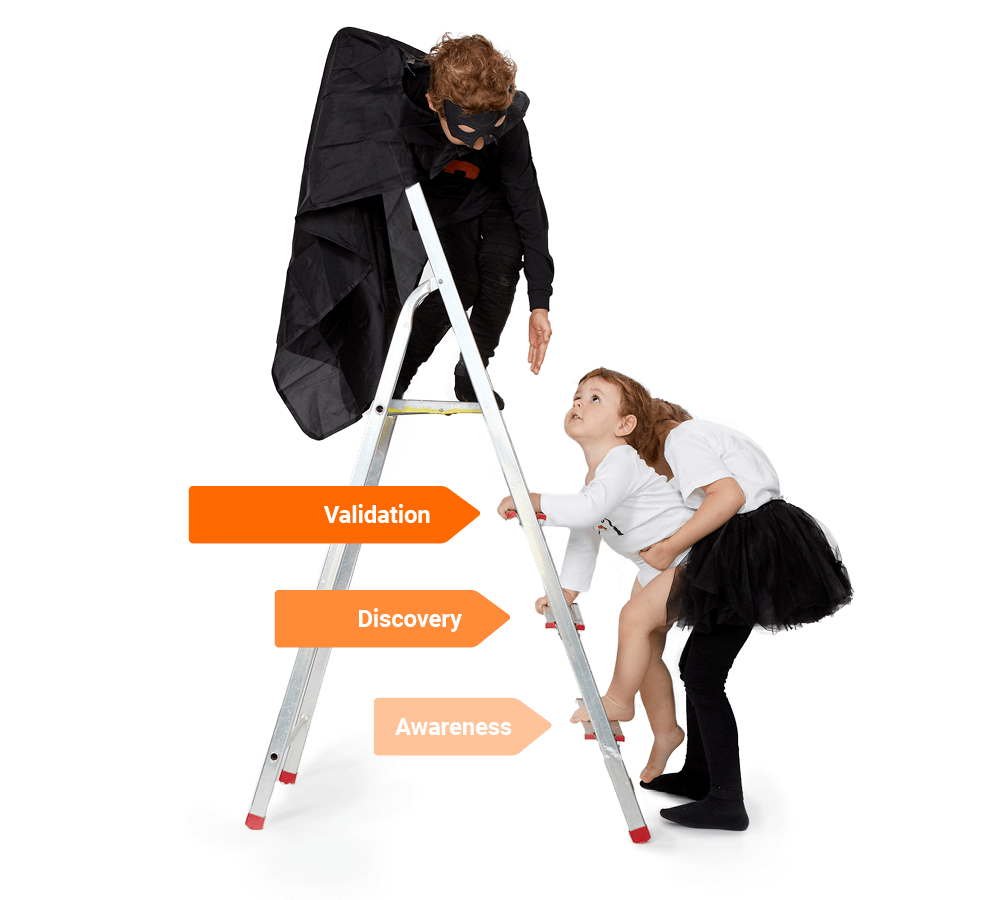 Demand Generation explained by example
Demand Generation can be better illustrated by the example of buying a washing machine: Today, a customer very rarely impulsively goes into an electronics store and says: "I'll take that washing machine in the back!
Before buying in the store or in the online store, the customer has usually gone through several touchpoints on the Internet before making his decision and has informed himself comprehensively with content about different type classes, manufacturers and much more in the media and test reports, but also on the manufacturers' websites. On site in the store, the customer is then likely to have the salesperson explain the product again in detail.
The orchestration of the entire customer journey: the content, the personalization from the first search or the first click on a banner to the presentation by the salesperson – that is Demand Generation with high quality for both the provider and the prospective customer.Die Orchestrierung der gesamten Customer Journey: Der Content, die Personalisierung von der ersten Suche oder dem ersten Klick auf einen Banner bis zum Vortrag das Verkäufers – das ist Demand Generation mit hoher Qualität sowohl für den Anbieter als auch für den Interessenten.
Key takeaway: Demand Generation is the tool of choice when your customer usually goes through a longer Customer Journey before deciding to buy.
Your key to success is high-quality data
In order to address complex target groups, it is first crucial to have the right data about them – or to generate it through efficient marketing campaigns.
We use all available data pools for our customer projects here. And these are usually bigger and better than you might think at first glance. SEO and social data, your CRM data, but also targeted market research and preparatory marketing measures help to draw a vivid picture of your persona, their respective needs and their problems. This means that high-quality, targeted information about your solutions for the needs and problems of your target group can then be presented on the appropriate channels.
Case Study: Micro Focus
The two primary goals for the long-term campaign were: Increase awareness of Micro Focus and Micro Focus products in the DACH region and create Lead Generated Opportunities (LGOs). These are qualified leads that have been validated by Micro Focus' sales experts in order to estimate the expected budget dimension of a project and attribute it to the marketing lead.
The complexity of Micro Focus' offering also contributed to the challenge: One of the 10 largest software companies in the world, Micro Focus has about 270 products, each with different competitors and also very different target audiences. Competitors range from IBM and Microsoft to startups and mid-sized software vendors with differentiated competencies in the niche.Auch die Komplexität des Angebotes von Micro Focus trug zur Herausforderung bei: Als eines der 10 größten Softwareunternehmen weltweit verfügt Micro Focus über etwa 270 Produkte, die jeweils verschiedene Wettbewerber und auch sehr unterschiedliche Zielgruppen haben. Die Wettbewerber reichen von IBM und Microsoft bis hin zu Startups und mittelständischen Softwareanbietern mit differenzierten Kompetenzen in der Nische.
The Lead Generation process
The advertising strategies
CIOs, system architects, administrators, and other groups of people were identified as personas. This group was then increasingly qualified during the marketing lead process and further activated for purchase by CRM software and scoring models.
Marketing lead process: from awareness to consideration and conversion to lead.
Inform. Engage. Convert
The basic strategy was to direct new and existing customers to the digital touchpoints. There, potential customers were to be informed about the product in the first phase. This was mainly done via the blog and relevant social networks. In the second phase, interested customers were activated by further content such as case studies, white papers or e-books and convinced of the advantages of the product. Important success criteria here were the adequate targeting of potential customers, but also the testing of the different teaser and advertising variants. Here, there are often worlds between the different motifs in terms of success. And often the users click on completely different motifs than one would think in advance.
In the third phase, we went through specific lead campaigns and marketing automation to the process of conversion to a marketing lead. As is so often the case, it's not just a matter of using the right tactics; the technology and tools must also support these precisely fitting experiences. And here, too, a lot of testing and optimization wants to be done to achieve the best possible results. We can't say this often enough: details matter! And those who save on testing and optimization always pay for it through significantly higher spending in advertising, usually by a multiple of the testing effort.s gar nicht oft genug sagen: Details matter! Und wer sich Testing und Optimierungen spart, zahlt das immer durch deutliche höhere Spendings im Advertising, meist um ein vielfaches der Aufwände des Testings.
Marketing lead process: from awareness to consideration and conversion to lead.
Matrix Funnel
In order to be able to grasp the target group, the first step was to create a matrix of relevant drivers for targeting. The drivers were a precise keyword analysis, insights from competitors, CRM and social data on the individual personas, and narrowing down based on account lists.
This matrix resulted in a precise target group that could be addressed via digital channels and promoted directly with the appropriate product. By the way, every matrix is different and always reflects the current focus. For example, if there are only a few competitors and a large variety of products, it can make sense to also include product specifics in the matrix.
The four drivers for targeting are used to reach precise target groups.
Retargeting Funnel
The second strategy focused on retargeting. In the top funnel, the classic funnel was used to promote the blog and the website with high-reach ads. In the further consideration phase, the persona circle could be condensed even more through targeted addressing and content. Subsequently, potential customers were converted back into marketing leads through white papers or e-books with a high degree of accuracy.
Operationalization
In order to achieve the awareness and LGO goals, The Digitale has used suitable native advertising platforms to target users of high-quality industry media such as CIO, COMPUTERWOCHE or Handelsblatt. Thanks to The Digitale's extensive experience, the prices on these platforms are relatively low, even for B2B-relevant topics, with high-quality traffic. But of course, "classics" such as search marketing – in this case Google Ads and social media (Facebook Ads in this case) – also played an important role in drawing people's attention to Micro Focus and its products.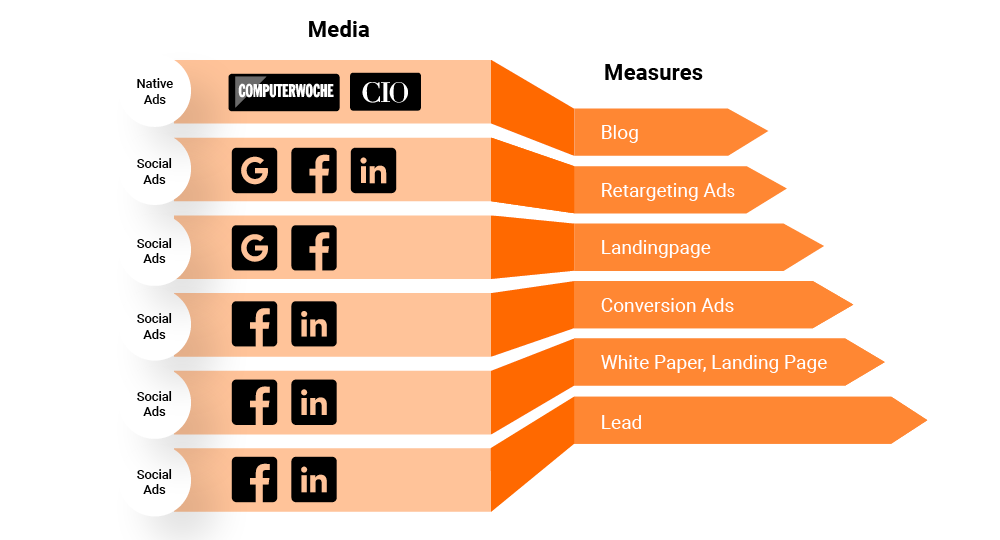 There are many ways to reach users of high-value industry media.
Mission accomplished
The Digitale was able to generate awareness in the individual customer segments for specific products as well as strengthen the Micro Focus brand in the DACH region and generate relevant leads.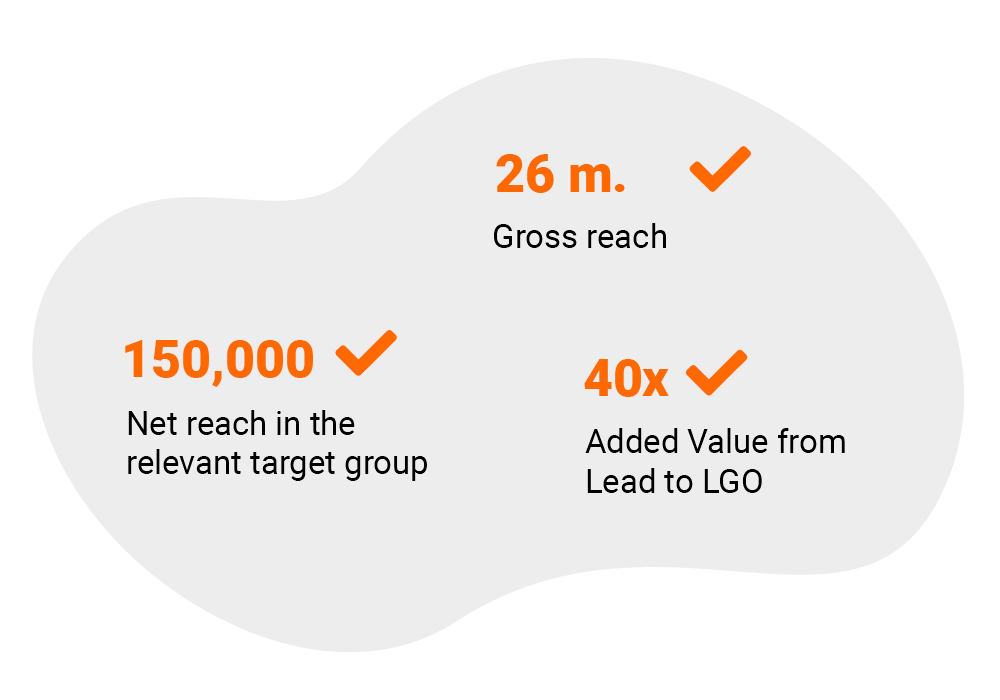 Results: The Digitale was able to generate awareness for specific products as well as generate relevant leads.
Only the interaction of matrix and retargeting ultimately led to the great success of the lead generation measure. Data protection issues, such as the development of third-party cookies, are also one of the reasons for using multiple strategies. An important success criterion is and remains the cross-channel use of content. Here, the details and the amount of valuable information matter.
You want to know which advantages Demand Generation has for your business? Then contact us now, there is also a suitable solution for you.