The Digitale in 90 seconds
In our latest video you will learn who we are and what drives us:
Analytics & BI
Efficient analyses and a transparent presentation of the relevant data are crucial for the success of digital marketing projects and campaigns.
Strategy & Conception
With proper data, innovative tools, agile methods and our experienced team we create concepts that make success not only plannable but also measurable.
Content & Editorial
Our editorial team of experienced journalists knows how to tell stories and draws on our high SEO and marketing expertise when creating content.
Design, UX, Conversion
Through our data-based approach we create a user experience that helps you to achieve your goals more efficiently and easily.
Development & CMS
Your technology should not dictate your strategy. We can help you analyze and optimize your existing technology.
Marketing & Promotion
We are not just interested in clicks, but in relevant traffic. That's why we have developed our own growth hacking strategies that give your content extremely high reach.
The major event originally planned as a live trade fair in The Hague had to be converted into a virtual conference within two weeks.
More than 500,000 kilometres of fibre optic cable, over 29,000 mobile phone masts – operating the telecommunications network is an exciting task.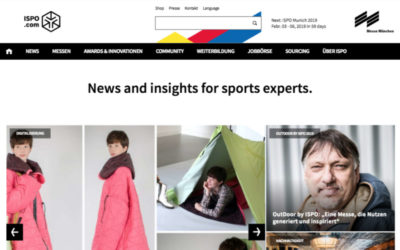 How do you transform a classic trade fair, whose original business purpose is the marketing of stand space, into a digital B2B2C key medium?
Net Promoter Score (NPS)
Sensational 55 points in the 2020 Customer Satisfaction Survey – 79% above the global benchmark for this important standard*
*Source: Surveymonkey 2020
Reason why
We love what we do and have start-up spirit. We work according to the most modern digital methods used by the most successful companies in the world and are your competent partner who, together with you, maximizes the success of your digital marketing. Agile, flexible and at eye level with you. That saves you time, nerves and is budget-friendly.
We work data-based
Be honest: How often do you or your partners really use the analytics and testing capabilities of digital tools? We do. For example, with marketing dashboards that we set up together with you. Because the basis of our strategies, concepts and works is extensive data, which we collect with the help of the latest techniques and methods and prepare so that they become "actionable". In this way, we significantly increase the success of your projects. By the way, we not only claim this, but can also demonstrate it. With data, of course.
We work with your KPI
Because we are constantly optimizing your campaigns, technologies and content, we agree with you before the project starts what exactly "better" actually means. Our KPI are always derived from your goals, they separate important metrics from absolutely critical ones. And this can be very different depending on the goal. You already have a KPI model or a scorecard? Great, then let's get started right away!
We control your projects 100% digitally
We rely on Design Thinking, Kanban and Scrum – for truly digital processes. Our mindset is digital from start to finish: It's about not believing, but measuring – with transparent, digital tools. It's about making mistakes and learning from them. To become better and better. And it's about enthusiasm, excellence and – yes – it's also about fun. Do you like it?
Your personal meeting is only two clicks away