In order to find the ideal digital solution for our customers, we need to know the market and the products exactly. In doing so, we are always breaking new ground. For example, we were one of the first companies to design and implement our own website using the brand new "Gutenberg" editor in WordPress. Our first impression: slim design, good overview and an intuitive editor.
Themen in diesem Artikel
Opportunity for companies with strong content
At THE DIGITALE we have been using the content management system Drupal for years for projects of our major customers – and until recently also for our own web presence. For our new website, however, we rely on the CMS WordPress. For our customers, who do not want to or cannot do without the many features of Drupal, nothing will change, of course. We will keep our high conceptual and technical Drupal expertise and will continue to support you in word and deed!
The reason why we decided to use WordPress for our own website is simply explained: We wanted to learn something new. Because with the introduction of the new block editor Gutenberg at the end of 2018, WordPress has greatly simplified the layouting and thus the quick construction of high-quality landing and content pages, thus creating completely new design possibilities. Here we see not only a fit for ourselves as a marketing agency, but also a great opportunity for our customers who want to produce a lot of content and realize lean, fast projects. So we said: We want to be one of the first companies to use the editor productively.
What the Gutenberg Editor has to offer
Since the last big WordPress leap (version 5.0), the developer community of the internationally popular CMS – WordPress is like Drupal Open Source, so it lives from those who use it – has come up with some ideas to make content even easier to produce in the future. The new editor standard Gutenberg offers some functions that can relieve website operators in the future.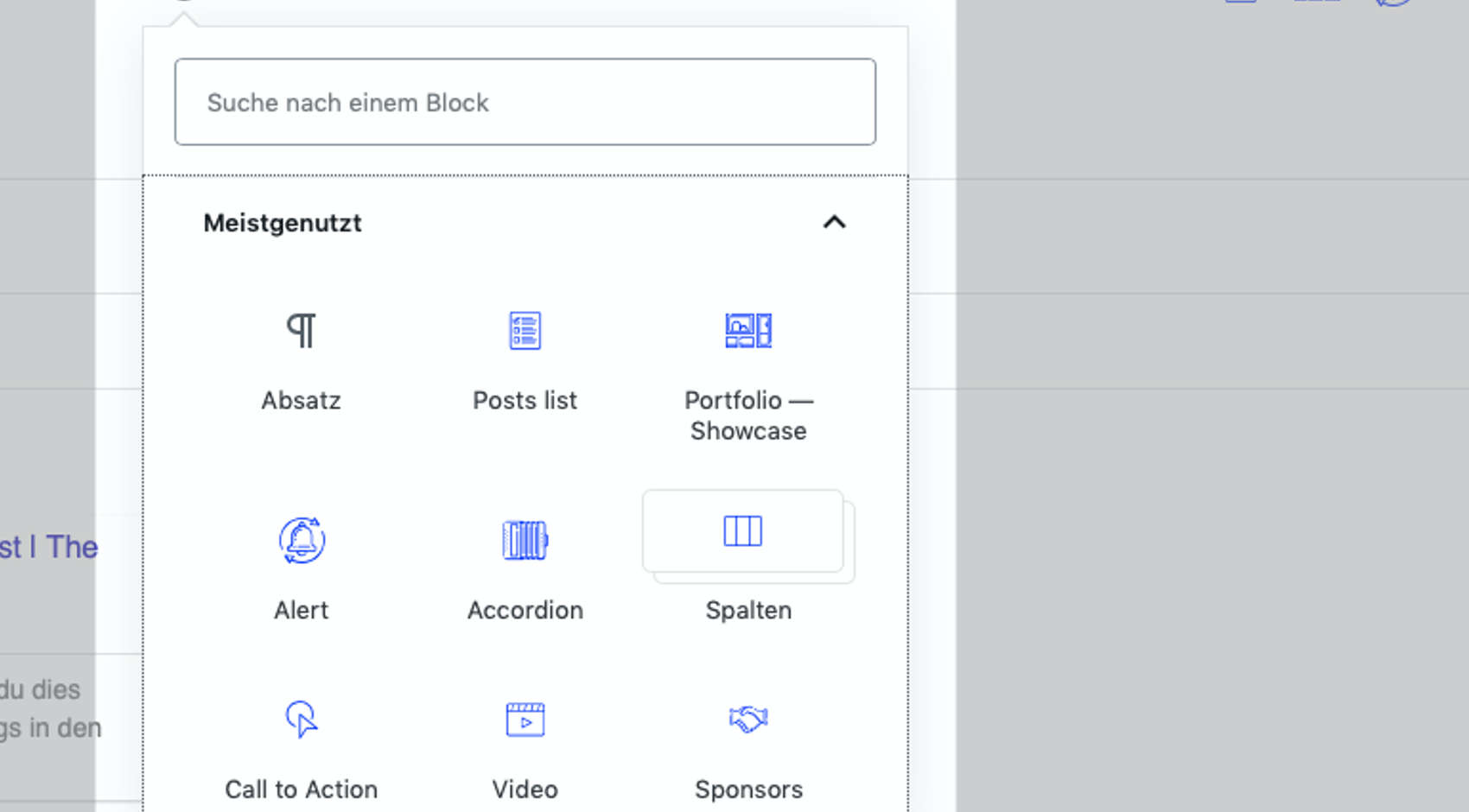 Page content can be created easily and quickly by selecting blocks.
Intuitive creation of layout and content elements with blocks: With the help of Gutenberg and the new user interface, even WordPress beginners can create articles much more easily. The block design allows a modular construction of entire websites and makes access to a CMS system even easier for small and medium-sized companies that produce a lot of content. Even before that, WordPress was designed for people with little or no programming skills. Now it is even easier!
Gutenberg simplifies functions: The new editor also offers a simpler implementation of numerous functions and layouts, which previously could only be realized e.g. via HTML, CSS, widgets or shortcodes (special functions of WordPress themes, which allow very flexible design and layout of WordPress). In addition, Gutenberg is no longer structured like a classic text program, but only offers blocks that allow you to create the entire content even easier. These blocks function like building blocks with sub-themes such as picture, quote, list, headline, etc. So you can create your article virtually building block by building block.
Also interesting for developers: If you want to create your own blocks, you can create your own blocks and thus expand the possibilities of your theme. The content area of the old editor did not have this extendibility. So WordPress does not only focus on simplification, but also on individual functions and new possibilities with the blocks. We notice: no trace of uniformity.
Pure text without distraction: The new editor interface allows editors or authors to concentrate much better on writing.
Johannes Gutenberg would be proud
The new editor in WordPress was named after the inventor of modern letterpress (Johannes Gutenberg), who also revolutionized the creation of content about half a millennium ago. With the Gutenberg Editor, the WordPress community has succeeded in creating a flexible tool that responds to the great demand for modular systems. So-called page builders are in great demand in modern online business, especially among small and medium-sized enterprises (SME). They cost nothing and also allow people with less technical skills to create websites and content themselves. We believe that WordPress with the Gutenberg editor is the right step into the future of content and page building and will therefore continue to work intensively on this topic.
WordPress is by far the most used CMS worldwide. | © statista.com
Summary after three months test phase – 3 questions to COO Peter Bilz-Wohlgemuth
THE DIGITALE: We have been testing Gutenberg for almost 3 months now. What were your first experiences with the editor?
Peter Bilz-Wohlgemuth: With the new WordPress editor, pages can be built extremely quickly, easily and with a high degree of flexibility. In addition, many functions that previously had to be integrated via plug-ins are already integrated. This saves us a lot of time and nerves. Because on the one hand our content producers can work faster and on the other hand our developers are relieved.
For whom is Gutenberg particularly well suited?
WordPress with the new Gutenberg editor is super easy to use – but that doesn't mean that the CMS is not for professionals. In general, the new solution is perfect for website operators who focus on content. However, for companies that mainly run e-commerce or enterprise websites or need features like personalization and language variants, we still recommend other systems, especially Drupal.
How do I find out as a company whether it makes sense to change the CMS and who can help me with this?
There are many factors that should be considered when choosing a CMS. How high is my budget? How much development power can I invest? How and where do I want to host my data? Do I have a lot of content with high fluctuation or rather static content? How important is e-commerce to me?
Since the CMS should not be changed too often in order not to confuse employees and users, the decision should be made consciously in any case. Also, the migration from one CMS to another often means a high risk of losing users or SEO rankings if a sensible strategy is not developed and implemented. It is therefore always advisable to consult a partner with a lot of experience in using different CMS solutions and with migrations.
At THE DIGITALE we have this expertise and since we also manage a lot of content for our clients, we not only know theoretically what is suitable, but can also refer to our practical experience. We are therefore happy to support companies in finding the optimal CMS for their needs. Here we have proven success for our customers that the change really does have the positive impact on the business that they are hoping for.
Link to the project: https://de.wordpress.org/gutenberg/
You want a CMS that fits you and your team perfectly?
Arrange your personal meeting now. Free of charge. No obligation.