How can Deutsche Telekom offer its Cloud Solution Partners in the business customer segment a value-added benefit that they do not receive from other providers? A large network where partners are supported to make strong connections, develop innovative ideas and create inspiring collaborations!
Our solution to this: A specially created Metaverse-Showroom as another home for the entire Telekom Cloud Solution Partner Programme (CSP2).
What is the Telekom Microsoft Cloud Solution Partner Programme?
As a Telekom Cloud Solution Partner, companies sell Microsoft cloud solutions and managed services. They decide individually which products are offered separately or in combination and supplement these with their own services or solutions. Telekom supports them in this as an indirect Cloud Solution Provider.
CSP2 offers more than just an ordinary cloud solution partner program. Telekom communicates with the partners beyond the pure business process and tries to network them with each other. In this way, the partners can learn and benefit from each other. Through its diverse formats, CSP2 offers companies unique opportunities to present themselves under the Deutsche Telekom umbrella.
Measures
Development and implementation of a concept for a CSP2 Metaverse Showroom.
We used these services
What it's all about
As an agency, we have been successfully supporting our client for several years. Our primary goal is to increase partner loyalty to Telekom. To achieve this, we develop suitable formats that we play on various channels, including the CSP2 Business School, CSP2 Inspiration Weeks, the biannual trade magazine "Zukunfts2 Magazin".
People buy from people. For this, we support and accompany Sales Manager Dirk Holger Heidemann, in his corporate influencer function, on his LinkedIn, YouTube and Cloud Solution Provide website channels.
"The Metaverse Showroom for our Telekom Partner Programme CSP is the result of a creative process by and with our partner agency The Digitale. I am thrilled with what we have created in such a short time with comparatively limited resources. A representative, informative and inspiring experience and interaction space for our partners and their business contacts as well as all interested parties of the Telekom Cloud Solution Partner Programme. At the same time, I have the feeling that this is just the beginning. With the bold leap into the metaverse, we have already opened new virtual doors to inspiring community formats and deployment scenarios, at least in our minds."
Dirk Holger Heidemann, CSP2 Lead Deutsche Telekom
The next step in virtual reality: Metaverse goes B2B
With the Metaverse, we see great potential in digital marketing to take it to the next level or make it future-proof. The Metaverse offers another new stage for existing CSP2 partners and sets standards in B2B networking. In this context, we are creating attractive incentives for companies to enter into the cloud solution partnership with Telekom. Thus, we are further expanding the status of the CSP2 programme as a digital pioneer in the course of digitalisation.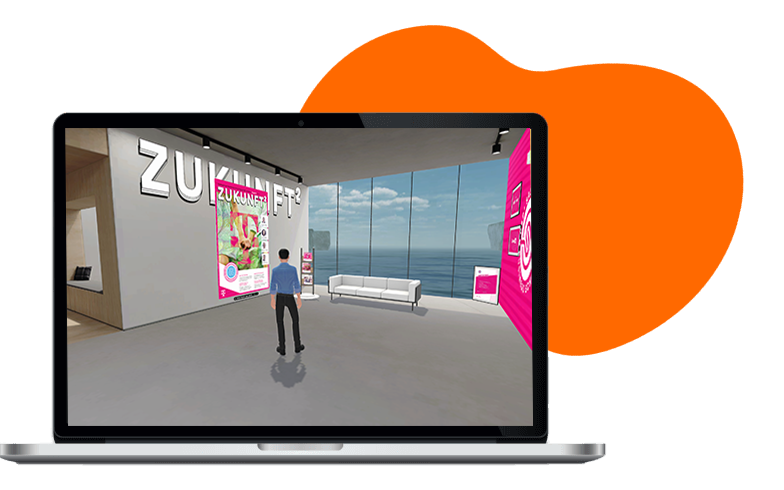 Successes
Centralisation of all partner formats on one platform
A complex product can be presented in an intuitive, accessible way! This enables users to quickly grasp complicated values and functions.
Strengthening partner loyalty
Appreciation is the key to building lasting loyalty with partners. We deliver this appreciation by using an innovative medium and offering partners a unique platform to present their ideas and business strategies.
What are the benefits of the Metaverse?
Companies can realistically present and experience their products and brands in the virtual world of the Metaverse.
A company's brand can be presented in a unique way to build a deeper connection with customers.
The Metaverse offers companies a new way to communicate with their customers in an interactive and immersive way.
Customer feedback can be received in real time and used to further improve products.
The metaverse is still in its infancy. If you establish yourself there now, you will grow along with the first generation.
Explore your own virtual world with our implementation
Our space offers the ideal setting to present the programme from its versatile formats to live webinars. We have developed a concept that effectively presents all aspects of this complex product in a compact space – without overloading visitors with information. Strategic design elements provide clear visual cues to guide users. Customers should feel at ease, just like in a real exhibition.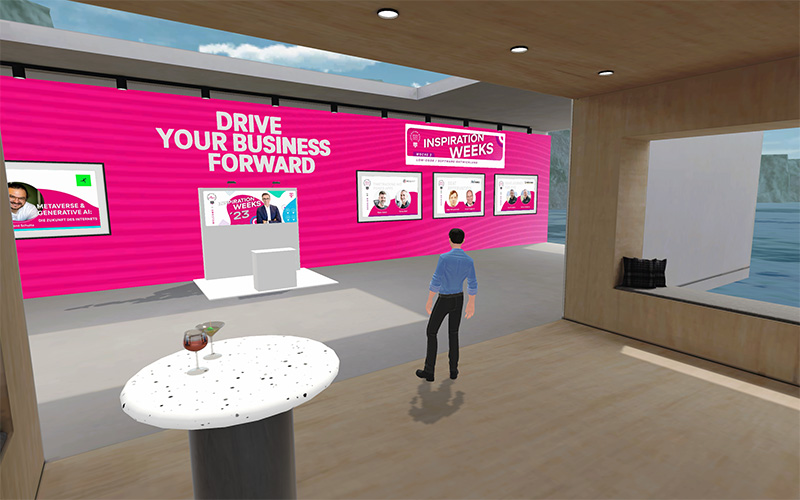 Contents of the room
Welcome & video wall: introduction to the room and its functions
Showroom: Presentation of the product and formats
Exhibition Area: Curation of different thematic focuses. Changing exhibition on topics related to the digitalisation and
Cloudification of Germany – from the Internet of Things to Cloud-Native and Artificial Intelligence.
The future is now: start your Metaverse project with us
The Metaverse is the next step in Virtual Reality and offers countless possibilities for companies, institutions and private initiatives. As an agency for metaverse projects, we bring your ideas and visions into the metaverse and ensure an immersive and interactive experience for your users. Whether for events, marketing or education – with us as your partner you can reach your customers in a completely new way.
Need support with your project?
Peter Bilz-Wohlgemuth
COO / Managing Partner