Telekom on your ears – the podcast
Launch of a Telekom podcast on the topic of network expansion.
Measures
Concept
Development
Distribution
Traffic
These services we have used:
This is what it's about
More than 500,000 kilometres of fibre optic cable, over 29,000 mobile phone masts – the operation of the telecom network is an exciting task that offers interesting material not only for YouTube, but also for the trend format Podcast. The challenge here was to recycle existing video material and prepare it for an audio channel.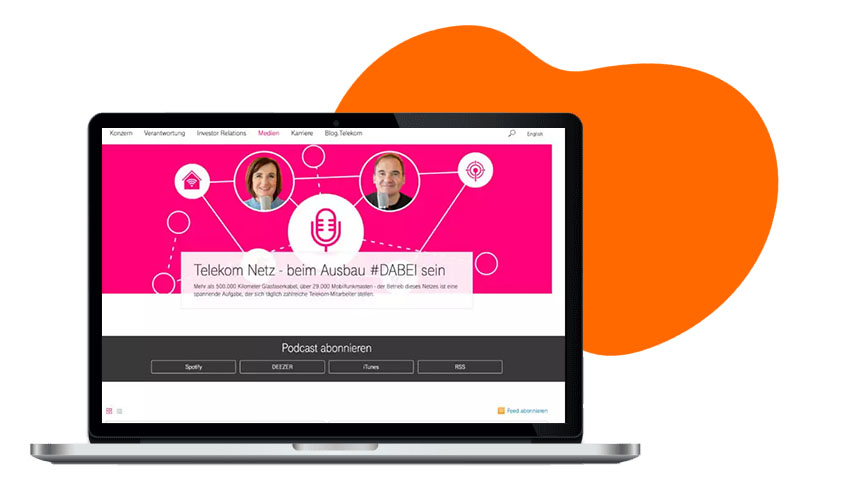 Good preparation is the be-all and end-all
In the run-up to the actual podcast production, THE DIGITALE created a collection of potential topics, taking into account publications already made on the telecom network channels, and transferred them into an editorial plan.
Subsequent measures were:
Adaptation of the topics from video to audio
Creation of an editorial plan
Planning and production of sound CI
Creation of image material for social media channels and advertising
Definition of an application strategy
weekly analysis and, if necessary, budget adjustment of the traffic
Omnichannel approach: linking all telecom network channels (podcast, blog, YouTube) with each other to create more reach
Results
Launch of a new podcast with content for a predefined target group
a total of more than 6,500 downloads via the played streaming services
over 2,500 subscribers during the first season
Commissioning of a second season
Enlargement of the community and reach
Need support with your project?
Peter Bilz-Wohlgemuth
COO / Managing Partner