What is the legal situation regarding drone deployment and which technology is suitable for your project? We clarify.
High-resolution landscapes, spectacular natural phenomena and new perspectives on cities, events and people – flying drones make it possible to produce image and video content that impresses with its uniqueness. Where the trend comes from, what needs to be taken into account in the current legal situation for drone recordings and which drone technology best suits your project, we reveal here.
Drone market in Germany – Quo vadis?
Whether unusual sports and event shots or breathtaking angles on nature or wildlife, thanks to the advancing drone technology, every pilot can become a pilot and capture his adventures on film and in photographs. Such recordings are becoming increasingly popular in both private and commercial settings.
The market volume for commercial drones in 2019 was 404 million euros. According to a market study by Drone Industry Insights, the demand of the commercial UAV market in Germany will expand to 2.5 billion euros in 2030. Areas of use for professional purposes include film and photo shoots, surveying, mapping and inspection. The market and the related trend in image and video recording by flying drones is growing in line with technological progress. In Germany alone, there were almost 400 companies in 2019 that were engaged in their core business with drone technology and unmanned aviation.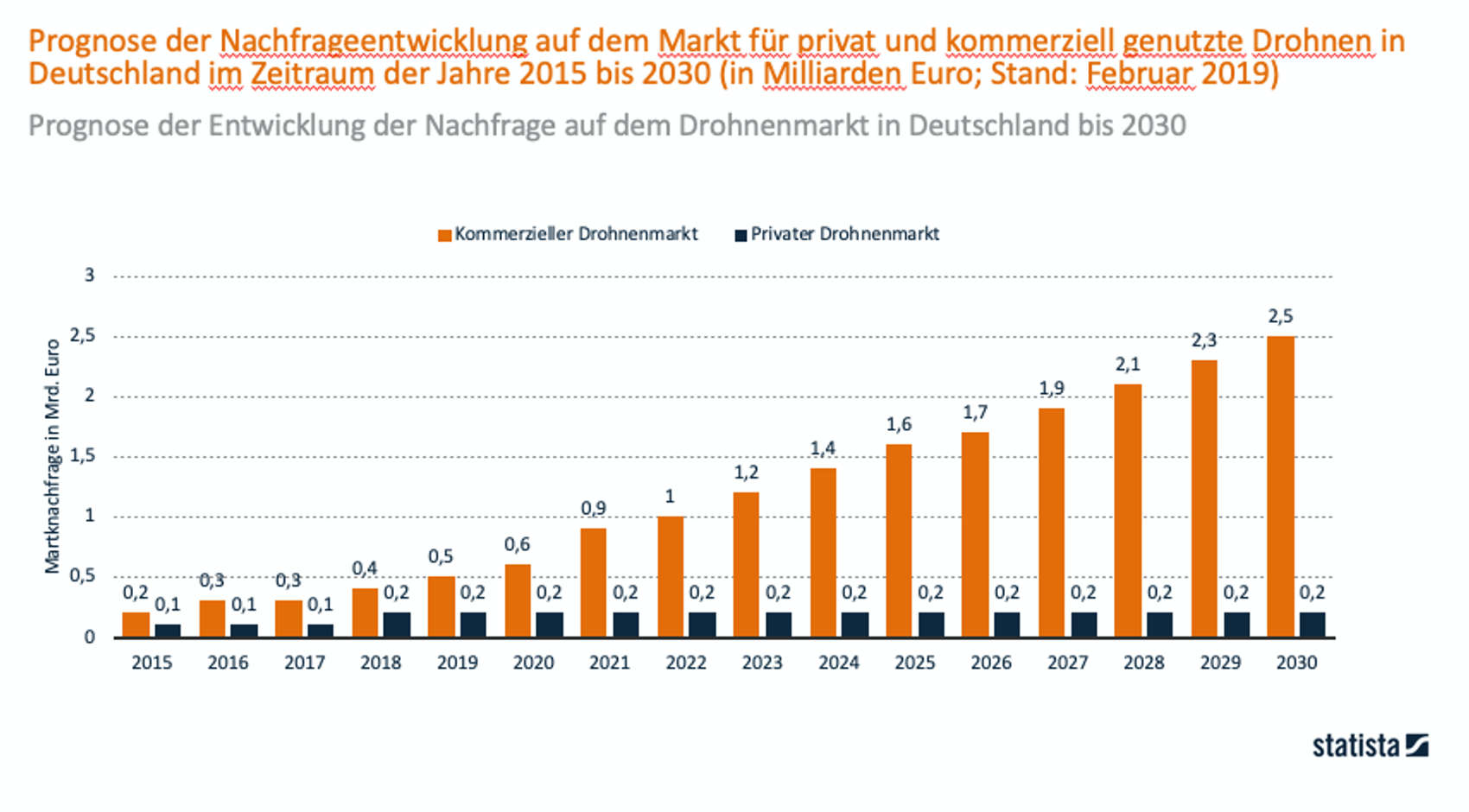 Trend forecast: UAV use for commercial purposes continues to rise. Source: statista.com.
The more accessible and user-friendly the technical requirements for drone flight are translated, the more the market grows and the more affordable the popular video drones become. The great demand for aesthetic recordings from a bird's eye view can be explained relatively simply: It is the phenomenon of flying itself, controlling the drone as an extension of its own body and being able to explore the world from above with its own flight path.
Because of the strong emotional impact and recognition value, more and more companies are also turning to high-quality video drones to add fresh perspectives to the storytelling surrounding their products and innovations. We can confirm that this pays off: Thanks to the use of drones, our film production for Deutsche Telekom won first place in the PW Award in the "Campaign Image" category. You can see the result here:Accept consent to view this
Your project also has complex, technical requirements? Contact us – we will bring our drone expert to your location.
What do you have to consider when using flying drones in Germany? Multicopters – this is the general term for flying objects with more than two rotors – are classified as unmanned aircraft, which, due to small uncertainties, can become a danger to objects and people. You have already planned a video shoot using a multicopter, but are unsure about the legal situation? In our further article you can find out how to create attractive drone videos. We have compiled the 5 most important Do's & Don'ts for you:
Legal regulations for drone deployment
1. the liability insurance for the drone
Whoever wants to fly a drone today is legally obliged to take out a liability insurance for this drone. Since inexperienced users can lose control of a drone, damage to third parties is insured. For private use, one should reckon with about 50 to 100 Euros per year. For commercial use, the annual insurance premiums are in the low three-digit range.
2. mandatory labelling – simple but indispensable
All Multicopter from a weight of 250 grams upwards have to be marked. In plain language this means: If you affix a fireproof sticker (e.g. aluminium sticker) clearly legible with the name and address of your company on your Multicopter, you are well protected. Tip: If you have a telephone number or e-mail address on file, it is easier to contact you in case of loss.
3. the drone driving licence – so you know when you need one
If you want to fly heavy multicopters from the high price segment for your project, you need a proof of knowledge (from 2.0 kg take-off weight). This proof of knowledge is popularly called "drone driving licence". From a take-off mass of 5.0 kg, drone pilots even need an individual permit from the aviation authorities for each flight. Usually both certificates are not required, since many drones deliver fabulous pictures even under these weight classes.
4. flight level
The maximum permissible altitude for multicopters is 100 metres. Anyone wishing to fly higher can have their aircraft flown at a designated model airfield or must obtain a permit from the relevant aviation authority. However, obtaining such a permit is not so easy and costs money. The reason for this is the registration of 158 obstacles to air traffic caused by drones in Germany in 2018, including all situations in which unmanned flying objects dangerously approached manned aircraft.
5. nature conservation, land, night flights
It also becomes problematic as soon as you want to fly over a nature reserve. This is prohibited in Germany. The same applies to flights over private property, crowds of people, accident or disaster sites, federal highways, industrial plants, prisons, military installations, power stations, embassies, federal and state authorities, police or general security authority properties or even hospitals. Night flights are also generally prohibited, but a permit can be requested.
All permits can be applied for at the individual federal states using forms. For example, you can fill out the form for Bavarian airspace on the official website.
Tip: If the property owner agrees to film from his property, drone shots are unproblematic. We were able to produce the drone shots of our award-winning film with the consent of a restaurateur from Königssee – and the animals in the nature reserve didn't mind either.
You would like to learn more about rights and rules for drone flight? Or know that your project is in safe hands? We are looking forward to your message.
Flying high – push forward to undreamt-of heights with drone shots. Photo: © stocksy.com / Roland Kraemer
Drone technology: what is possible today?
Whether Tricopter, Quadrocopter, Hexacopter or generally Multicopter – depending on the project, the requirements for number of rotors, weight and equipment of the drone vary. In the current multicopter market, the technical conditions are as varied as the models and prices. Today, images and flight manoeuvres are possible that cannot be achieved by helicopters or airplanes.
It is also because of their high flexibility that flying drones are so popular with private users, artists and companies. Quadrocopters (4 rotors) are particularly suitable for beginners. For more information about the technological requirements of your project, please contact us.
Of course, not every company has drone experienced employees, as well as the necessary resources and know-how for professional video production using a flying drone. We at THE DIGITALE will be happy to take a close look at your project and put your product, your employees, your company or your event perfectly in scene – from the air and in best high resolution.
Don't leave your drone recordings to chance