Creative & High Traffic Social Content
Turn users into fans, establish a new brand experience and win new customers in a highly competitive market: This is the challenge eBay.de is facing. To achieve these goals, eBay has been relying on content marketing – and THE DIGITALE since 2014.
Measures
Production of "shareworthy content"
Youtube and Facebook videos, interviews, memes, ads and lists
Development social campaigns
Diese Services haben wir eingesetzt:
Ebay – One of the largest online marketplaces worldwide
With an annual trading volume of 82 billion US dollars, eBay Inc. is one of the largest online marketplaces worldwide (as of 2015, source). 164 million active buyers cavort globally on the platform, eBay Germany sells car parts every two seconds and a smartphone or fashion accessory every 14 seconds (as of July 2016, source) The number of mobile hits is rising continuously. In the German market, mobile electronics, cooking utensils and fashion are now sold every second. Since 2011, eBay.de has been active in social networks, initially on Facebook and since 2015 also on Twitter, Instagram and Pinterest.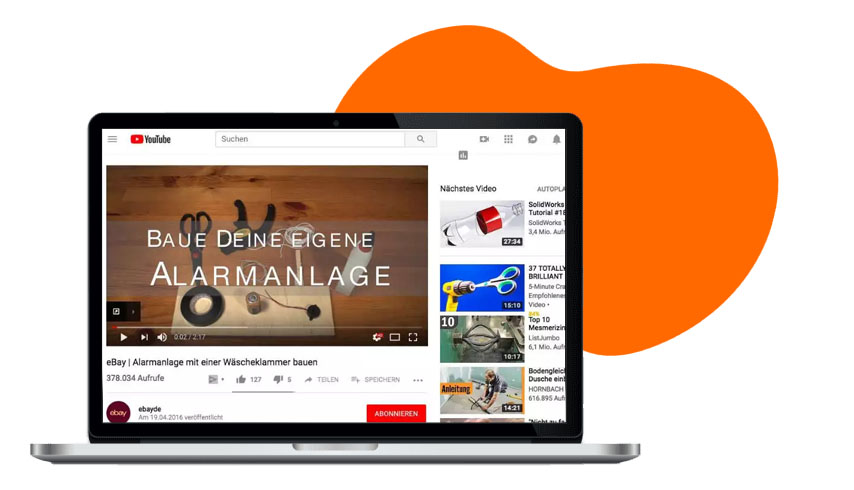 Partnership in change: From pure content marketing to multidimensional concepts
The content partnership between THE DIGITALE and eBay Germany began in February 2014 with a clear, initially one-dimensional vision: With search-engine-optimized content that covers topics relevant to eBay and achieves the highest possible visibility on the newly created advisor platform ebay.de/gds. Through targeted links to individual product pages, the traffic for the entire trade portal should also be increased through the articles. In cooperation with t-online.de, Germany's most wide-reaching online portal, THE DIGITALE produced a large number of SEO content on the central eBay verticals, above all "Electronics" and "Home & Garden", and placed them on the subpages of t-online.de and its Vertical zuhause.de via attractive teasers.
Since then, the cooperation has continuously changed from a pure content delivery to a multidimensional conceptual campaign and project management. Since 2015, this has also included the implementation of a social media strategy with the aim of addressing different personas and tapping new target groups through exciting, entertaining and useful content, adapted, personalised storytelling, diversified channels and targeted targeting. The focus is on the KPIs CRT, reach, commitment and traffic increase eBay.de as a whole.
To achieve these goals, eBay and THE DIGITALE are pursuing a two-track content strategy: On the one hand, THE DIGITALE produces "social content", i.e. seasonal content with a current focus and high commitment potential. This also includes multimedia-based campaigns for major events such as the European Football Championship or Gamescom. On the other hand, THE DIGITALE defines so-called "interest clusters" in consultation with eBay. These are topics that are considered particularly relevant to the eBay Business Units. THE DIGITALE creates multimedia-based editorial plans for these clusters, creates content (text, video, images), social posts in extensive AB tests and, since 2016, has also taken over community management for the Facebook channel. In the meantime, traffic has also been successfully increased with the help of native advertising campaigns.
Results
THE DIGITALE has already achieved great success with this content marketing strategy. For example, a single post in the "Homesecurity" interest cluster on the subject of "building your own alarm system" reached over 7.5 million Facebook users, achieved 928,000 visits, 25,000 likes and 12,000 shares. To build on these successes, to address the various target groups of eBay with the content that is relevant to them, to make the company experienceable anew via social media and to convert users into fans – that is the goal that eBay and THE DIGITALE are pursuing together.
Need support with your project?
Peter Bilz-Wohlgemuth
COO / Managing Partner